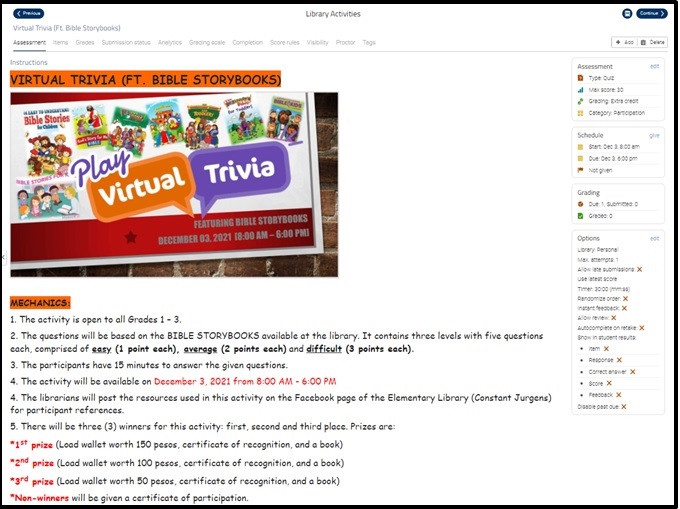 The USL Elementary Library has conducted Virtual Trivia Ft. Bible Storybooks on December 3, 2021 virtually via NEO LM. The said activity aims to:
1) test the familiarity of pupils on the Bible collections available at the library;
2) promote reading of Bible to the lower grades.
The activity was facilitated by Ms. Ana Aura Uy (Elementary Library Head) and Ms. Jessa Lannao (Reader's and Technical Services Librarian). Pupils from Grades 1 – 3 for Junior Category and pupils from Grades 4 – 6 for Senior Category participated in the said activity.
The following emerged as champions:
Name
Grade & Section
Rank
Junior Category
Carag, Xiandra Diane
1 - Daisy
1st
Lingan, Francis Raphael
3 - Dahlia
2nd
Mabborang, Sean Eustace
2 – Ilang-ilang
3rd
Senior Category
Tanguilan, Vermilione Jewel
4 - Jasmine
1st
Pawar, Ashmanpreet Kaur
5 - Cattleya
2nd
Tamani, Sophia Andrea Marjerie
4 - Jasmine
3rd