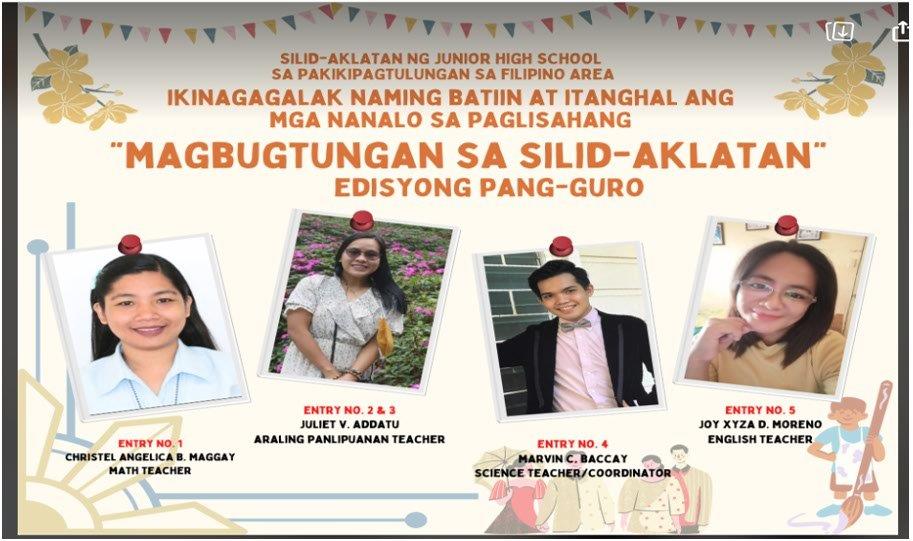 The Junior High School Library in partnership with the Filipino Area conducted the first activity "Magbugtungan sa Silid Aklatan" on August 17-19, and 25-26, 2022.
The teacher edition was conducted through posting questions via the Tala Louisiano Page and the student edition was conducted via Google Meet.
The objectives of the activity were the following:
1.) to promote the library, its Filipiniana collection and to inculcate the love for learning,
2.) to develop critical thinking and problem-solving skills,
3.) to have an opportunity for teachers and students to laugh and have fun.
The aforementioned activity, led by the Junior High library, demonstrated our own literature's revival.It is appropriate to continue the activity every year in order to show our appreciation for our country's knowledge and to be revitalized in the minds and hearts of all people, particularly students and teachers.
Everyone helped out and was interested in the activity. Furthermore, the outcome of the evaluation was effective.
The following were the winners:
Student Edition:
Unang Gantimpala: Joren S. Maribbay Grade 9-Prudence
Pangalawang Gantimpala: Luzielle Maria C. Yaneza Grade 8-St. Peter
Pangatlong Gantimpala: Edimar C. Trumata Grade 10-Rizal
Teacher Edition
Christel Angelica B. Maggay- Mathematics Teacher
Marvin C. Baccay-Science Teacher/Area Coordinator
Juliet V. Addatu – Araling Panlipunan Teacher
Joy Xyza D. Moreno-English Teacher