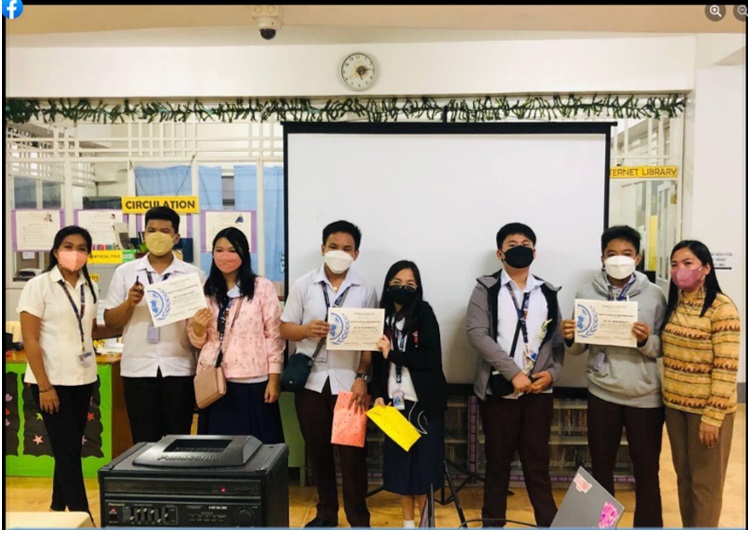 The Junior High School Library and Book Club held their Ultimate Travel Contest in collaboration with the Araling Panlipunan area and the TRIBO Club.
The Araling Panlipunan Area Coordinator, Miss Flordeliza Addatu, and the JHS Library Head, Mrs. Rosemarie Espanto, spearheaded the activity, which was assisted by the Araling Panlipunan faculty and library staff.
The activity was intended for Grade 8 students and was held on the following dates: Batch 2 on October 14, 2022, and Batch 1 on October 20, 2022 at 4:00-5:00 PM.
Furthermore, the activity provided an opportunity for students to improve their knowledge of the locations of various countries around the world and establish the library as a place where students can enjoy learning about our amazing world.
The activity was a success hence hoping for the collaboration of activities in the different subject area future.
Winners:
Batch 1
3rd Placer: Saint John: Heshvann Kizhlei Caindec & Kyle Baccay
2nd Placer: Saint Mark: Jaden Ivan Perez & Chyuna Coleen Fuensalida
1st Placer: Saint Peter: Niño Matammu & Ma. Janelle Ballad
Batch 2
3rd Placer: St. Clare: Hanz Leonard Balod & Mark Andrei Viloria
2nd Placer: Precious Jewel Tumanguil& Aaron Jose Quilang
1st Placer : Aaliyah Asha Capili & Anthony Greg Luyun