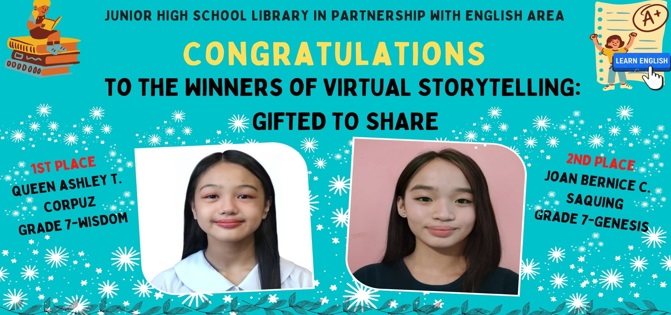 The Junior High School Library has conducted other activities for the Junior High School Students in collaboration with the English Area for the month of February and in celebration of the International Literacy Day.
The activities are entitled "Virtual Storytelling: Gifted to Share" and "Selfie with My Quarantine Book." In recognition of the participants' efforts and as promotional activities of the JHS Library, the activities were posted on TALA Louisiano Page to inform the community and give heart reactions to their most-liked image and storytelling to support their classmates and friends who joined the activities on February 23, 2022.
The objectives of the activities were as follows: to encourage students to expand their knowledge about the library while having fun, promote the services offered by the library, promote reading and listening skills among Louisian STARs and improve their presentation communication abilities via storytelling.
Participants chose to have their favorite book as a creative object for the selfie. While for the Virtual Storytelling, the librarians provided 1 Filipino story used to tell the story. All the winners have received e-load prizes.
Below were the winners of each activity:
Selfie with My Quarantine Book winners
1st Placer- Kate Reboredo-Grade 10- Bonifacio
2nd Placer- Juliana Denise B. Calagui-Grade 8-St. Mark
3rd Placer- Merty L. Gumiran –Grade 10-Aguinaldo
Virtual Storytelling: Gifted to Share winners:
1st Placer- Queen Ashley T. Corpuz- Grade 7-Wisdom