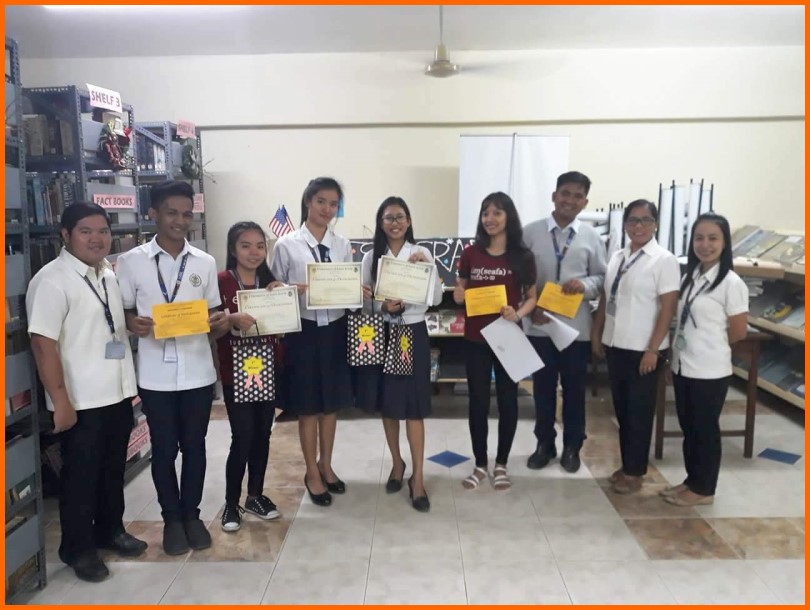 "Libraries Take Action: Providing Access and Opportunity to All" is the theme for the National Book Week 2017 which was celebrated by the USL College Library last November 23-27, 2017. Week-long activities spearheaded by Mrs. Juliet D. Villanueva, College Library Head in coordination with the Section Heads and Circulation staffs as leaders of the different contested events were conducted. Such activities aimed to showcase the College Library's collection and services.
Day 1, November 23, 2017: "Story Web (Fiction Books)" and "Globe Tour (Teacher-student tandem)" led by Ms. Maria Theresa C. Bautista and Mr. Onofre C. Unciano, Jr. respectively were successfully conducted.
Day 2, November 24, 2017: three activities were conducted simultaneously such as: "Picture that Book (Gen. Collection)" led by Ms. Vanessa D. Gevera and Mr. Bryan Jay U. David, "Sinetch Itey (Biography and Reference collection)" led by Mrs. Danoleene Marie P. Tugade, and "Sine Library (Multimedia collection)" a movie marathon led by Mr. Aldwin Baligod.
Day 3, November 27, 2017: The last set of activities was conducted including "Shelfie with a Book (Filipiniana Collection)" led by Mrs. Daisy Dagdag and "Find the Fib (Journals and Newspapers)" led by Mr. Avel Perseus G. Tallud.
Awarding of tokens and certificates to all winners and participants was conducted every after each event.
The table below shows the list of winners:
Name of Activity

Name and Department of Winners

"Name that Book"

1st place: Agelica Mae B. Edrada, BSCE-3

2nd place: Krizel Angelie B. Argal, BSECE-4

3rd place: Jolina-Ann U. Dumalag, BSBA-3

"Story Web"

10 participants from the different departments

"Globe Tour"

1st place: Ma. Felisa Addun & Mr. Jhon Michael Bassig

2nd place: Rommel Royce Cadapan & Charizza Mae Tamacay

3rd place: Mr. Jaime-11 Daliuag & Jay D. Ingles

"Shelfie"

1st place: Nichole M. Lozada- BSED 4

2nd place: Krisha M. Berbano- SHS

3rd place: Marvin S. Mariano- BSAC 3

"Find the Fib"

1st place: Jay-R Cagurangan & Tresia Dulin- SEASH

2nd place: Forie Mina & Maria Cristina Malana -SEAIDITE

3rd place: Jaymar Sierra - SEASh& Aprille Taguba- SABH

"Sine Library"

Open to all students and library users

"Sinetch Itey"

1st place: Cauilan, Mack Danielle ( SHS-ABM)

2nd place: Rio, Carl Joshua (BSBA-4)

3rd place: Mayodong, Benedich Levy (SHS-ABM)