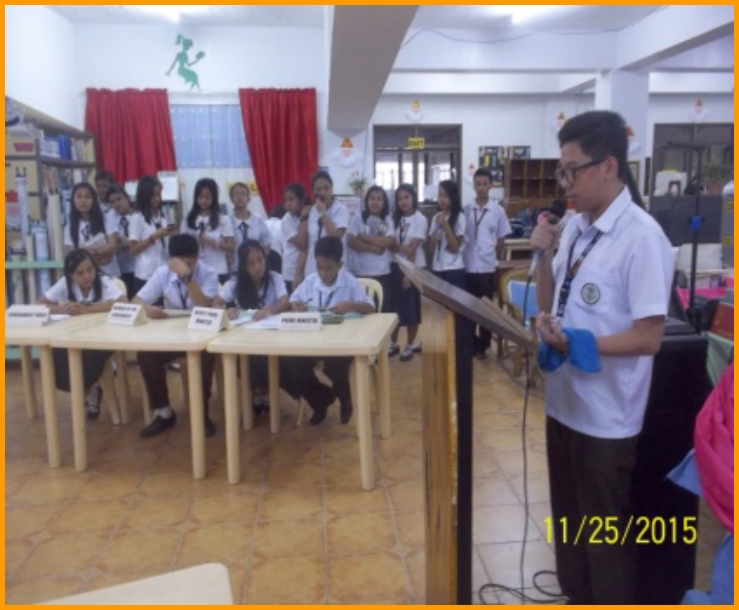 ASEAN Integration", the High School Library led by Mrs. Rosemarie A. Espanto conducted various activities participated in by the High School students and faculty. For the HS teachers to feel involved in the celebration of National Book Week, the High School Library prepared one contested event for them such as the Teacher Henyo as an opening of the celebration in November 9, 2015 where Ms. Mylene Zingabo was declared as winner. Seeing the happiness in their faces is also our consolation as librarians spearheading such activities.
Moreover, the HS library staff began the first activity which is the book drive that was opened to all Louisian STARs who may want to donate either new or old books (fiction or non-fiction) as part of the donation program of the HS library. The third activity wasOrigami-making, a competition between grades 9 and 10 where Danielle Iringan and Julieanne Pamittan of Grade 9 Prudence won first place. The fourth activity was Name that Fiction Book. Carl Lucas Empedrad and Marie Lynette Ramirez of St. Mark won the competition. The fifth activity was a 5th series of British Parliamentary debate entitled "Y Speak Dot Lib" that was conducted among the different Grade levels. The first round was a match between Grade 9 and Grade 10 on November 23, 2015. Round 2 was a match between Grades 7 and 8 on November 24, 2015. The championship round which was a match between the winners of the two rounds was held on November 25, 2015. The grade 10 team emerged as the champion with Jamie Suguitan as Best Debater and Matias Supnet as the Best Speaker. Among the members also of the winning team were Kathryn Anne Bunagan of Grade 10 Rizal and Gian Marlowe Taguinod of Grade 10- Andres Bonifacio. Adjudicators who graced the debate were: Ms. Charmaine Masuli, Acquistion Librarian; Ms. Rosetane Zalun, College Guidance Counselor, and Mr. Alfred Iringan, Serials Librarian. Another contested event entitled "Classic Tangram" where 1 participant per curriculum of all year levels joined the contest. The contestants completed the images through the Classic Tangram. Mr. Paul Baquiran of Grade 10-Aquino and Friksia Ferrer of Grade 9 Generosity won the contest.
Lastly, on November 19, 23-26, 2015 a week-long movie marathon was held at11:30-1:00, and 4:00-6:00 in the High School Library. The movies were projected on screen during lunch breaks and after classes in the afternoon to entertain the high school students. The following were the movies played:The Maze Runner, Tween Academy, Ender's game, Diary ng Panget and the Fault in Our Stars.
The celebration of the National Book week was indeed very successful and fruitful because of the supportive faculty and students who enjoyed a lot during the events.